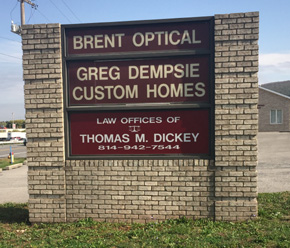 NOTICE TO ALL TOM DICKEY LAW OFFICE CLIENTS AND BUSINESS PARTNERS
Due to the recent State of Emergency surrounding the coronavirus COVID19 pandemic, the following changes to our business are in effect until further notice.
Legal services fall into a gray area regarding the closing of non essential businesses as ordered by Governor Wolf. Courts are operating with limitations and attorneys are required to appear under certain circumstances. Therefore, we are dedicated to providing our clients with legal representation, while limiting contact as much as possible to protect our employees and our clientele.
Please help us all remain safe from potential infection by following these guidelines:
APPOINTMENTS
In order to limit contact with others,
we are closing our waiting room
.
If you have a scheduled appointment, please park, call us from your cellphone to let us know you are here. We will call you on your phone when we are ready for your appointment.


ONLY THE CLIENT WILL BE ADMITTED. Elderly, handicapped, and juvenile clients are permitted to bring along a supporting adult. No one will be permitted in the waiting room during your appointment.


NO CHILDREN will be admitted. Please arrange childcare prior to your appointment.


If you are sick, or have a condition that predisposes you to infection, please reschedule your appointment or request a phone conference with an attorney.


Please maintain at least 6 feet of distance from employees to further ensure everyone's safety.
PAYMENTS
Payments should be placed in the drop box located on the wall next to the door. A receipt will be sent to the address we have on file.



Credit and debit payments may be made by calling the office.
PAPERWORK
If you have paperwork to drop off, please call the office when you arrive and we will meet you at the front door.
ALL OTHER INQUIRIES
Please call the office. We may not be available for drop in consultations, but will arrange an appointment or a phone conference.
BUSINESS SERVICES
To our business partners, mail and express mail services, please knock on the door for deliveries.
IT IS VERY IMPORTANT THAT WE HAVE CURRENT PHONE NUMBERS AND ADDRESSES IN ORDER TO CONTACT YOU!! Call the office as soon as possible with any updates to avoid missing important information regarding your case.
THANK YOU TO EVERYONE FOR HELPING US KEEP EACH OTHER SAFE AND HEALTHY DURING THIS TIME!
Tom Dickey Law Offices
(814) 942-7544